Placing a cheerful deity of a feng shui smiling buddha in your home has been proven to bring good luck to your family. The feng shui Laughing Buddha direction must be perfect to achieve the best results. a laughing buddha not only brings good luck but also energizes and heals all sectors of your life in a very positive way. it is believed to strengthen those weak aspects in your life and immensely increase the positivity in your home.
laughing buddha feng shui
meditation buddha
A Buddha idol in a meditation pose has both the palms placed in his lap and his legs are crossed in the lotus position. The face of Buddha in this pose exudes peace and calmness. The eyes of Buddha in this idol are half-closed with a very tiny opening or at times fully closed. As far as the feng shui Laughing Buddha direction is concerned, this should ideally be placed in your prayer room or meditation room.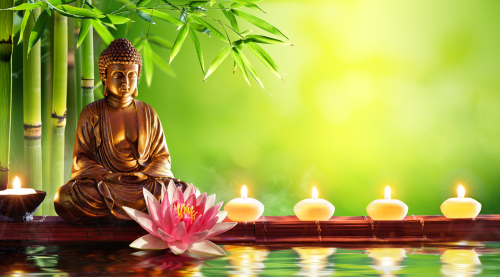 Meditation Buddha with a beautiful natural background
Reading: Buddhist feng shui
buddha protection
A Buddha idol with its right hand raised with a blessing symbol represents courage as well as offers protection from delusions and fear. The Protection Buddha statue is available in sitting down as well as standing up position and can be placed in any area of the house.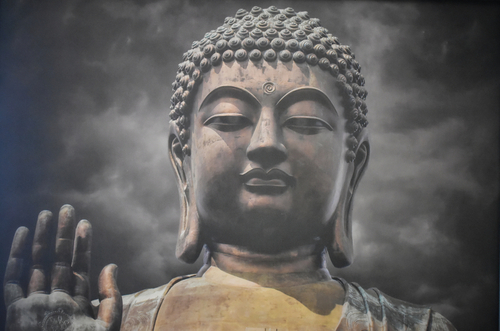 Protection Buddha idol
reclining buddha
A Buddha idol in a reclining position depicts the last moments in the illness of the Shakyamuni Buddha. In this idol, Buddha is seen in a reclining position and his head is supported by the right hand. This statue has a deep meaning as this portrays compassion which usually comes with the enlightenment and also the potential for releasing from the rebirth cycle. This statue needs to be ideally placed lying on the right side and facing towards the west.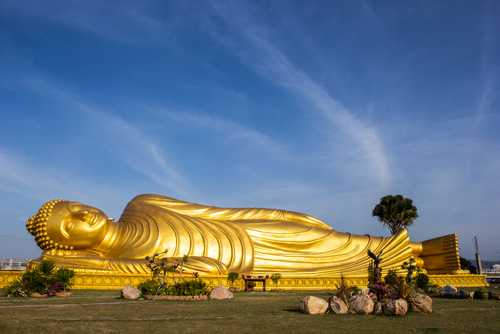 The Reclining Buddha Idol
medicine buddha
In the case of a Medicine Buddha, this statue depicts a seated Buddha holding a bowl of herbs very prominently in his left hand that is resting on his lap. The right hand of the Buddha idol is pointed downwards with the fingers extended towards the ground and the palm outward. This idol signifies healing and health and is best for people who are seeking the boon of well-being and good health.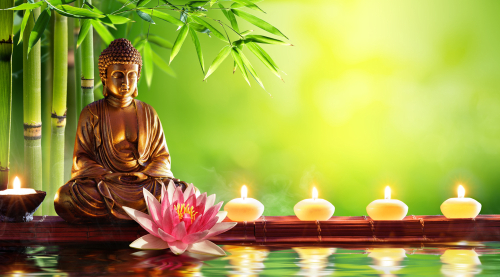 The Medicine Buddha
feng shui laughing buddha
This pot-bellied, rotund idol of feng shui laughing Buddha during his later years is the most recognized and in-demand idol of Buddha. This idol is supposed to bring in a lot of happiness as well as prosperity to your house. Rubbing the belly of a feng shui laughing Buddha is believed to bring in more abundance in your life.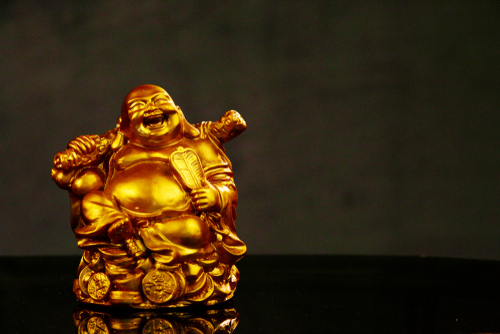 Feng shui laughing Buddha
buddha in a zen garden
See also: The Center of the Feng Shui Bagua – The Feng Shui Studio
If you have enough space in your garden or terrace, then you can create a peaceful Zen garden with a statue of a meditating Buddha set on top of a waterfall. The soothing sound of gurgling water as well as the lush green plants placed around the area makes this an absolutely perfect spot for the purpose of your daily meditation.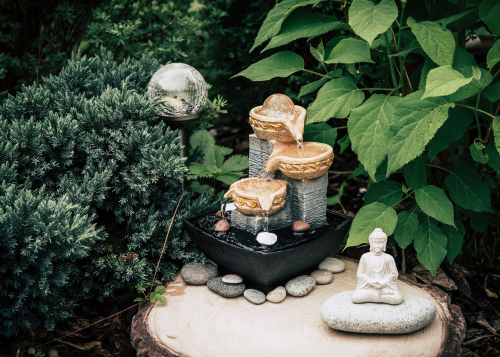 Buddha in a Zen Garden
feng shui laughing buddha in both hands raised pose
This is one of the popular forms of Feng Shui Laughing Buddha and is a must-have. This strongly signifies good luck, happiness and helps in rising above any particular situation that your life throws at you.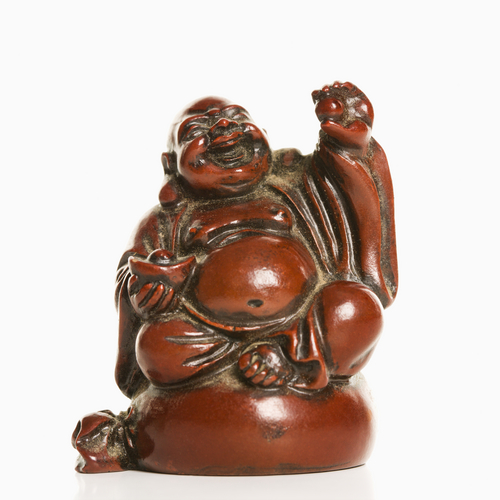 Feng Shui Laughing Buddha
smiling buddha with children around
This posture of feng shui Laughing Buddha with children around symbolizes increasing bonding and love with your children and at the same time brings immense amount of luck for those who are planning to conceive.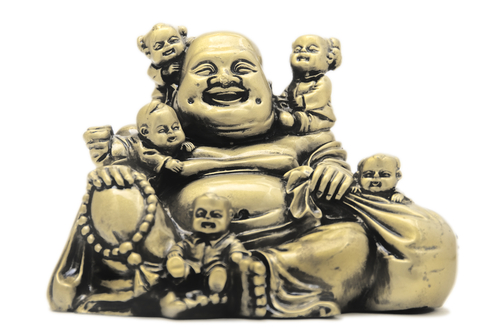 Idol of Laughing Buddha with children
smiling buddha with gold ingots or coins
The idol of feng shui Laughing Buddha with ingots and gold coins is ideally to be placed in your workplace. This is believed to bring a lot of wealth, success and prosperity.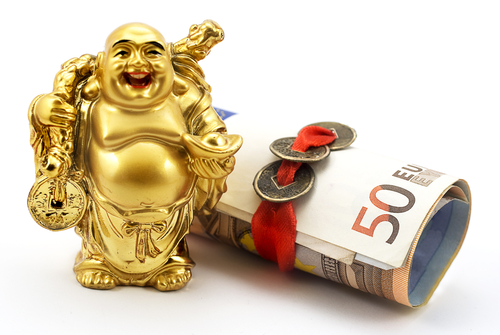 Laughing Buddha with Gold Coins
laughing buddha with a sack
The feng shui Laughing Buddha strongly symbolizes a kind and powerful traveler who is believed to collect people's troubles and take them away along with him. This strongly signifies a bad of wealth and good fortune. This can be placed anywhere in your home to keep yourself and your family members away from any kind of trouble.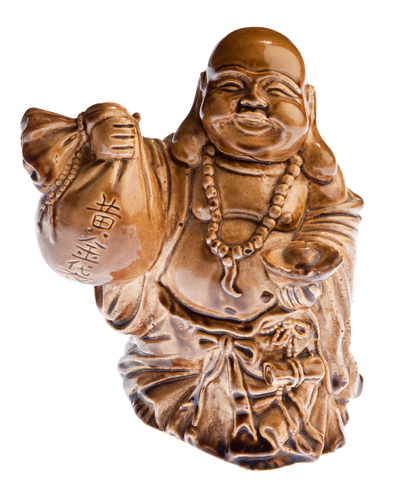 Laughing Buddha with a sack
smiling buddha with a fan
The feng shui Laughing Buddha holding a fan symbolizes bidding farewell to all your troubles as well as inviting happiness to your life.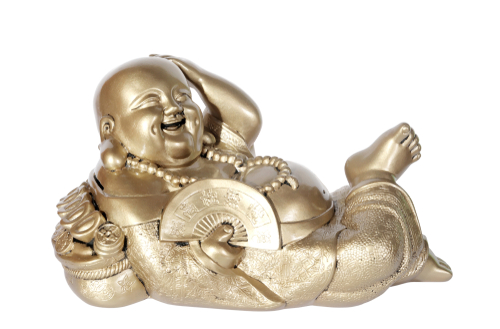 Laughing Buddha with a fan
smiling buddha in the position of holding pearls
See also: The feng shui guide to decluttering | WellGood
A feng shui Laughing Buddha holding pearls that signifies wisdom and practice meditation with the strong pursuit of attaining enlightenment. If you are seeking peace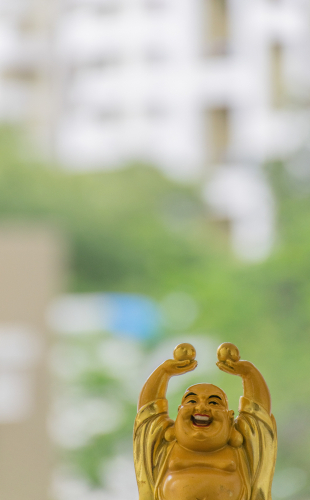 Feng Shui Laughing Buddha with pearls
smiling buddha with a wolf
The feng shui Laughing Buddha is gourd-shaped and looks like an hourglass. This idol symbolizes long life, promotes healing and ensures that everyone in your family enjoys good health.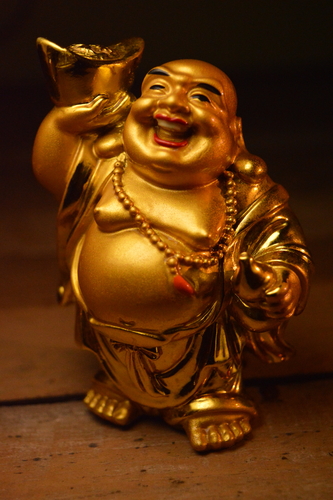 Laughing Buddha with a Wo Lu
laughing buddha with a bowl
The feng shui Laughing Buddha holding a bowl depicts humility, simplicity and values. This idol largely is associated with the pursuit of attaining the much sought-after enlightenment.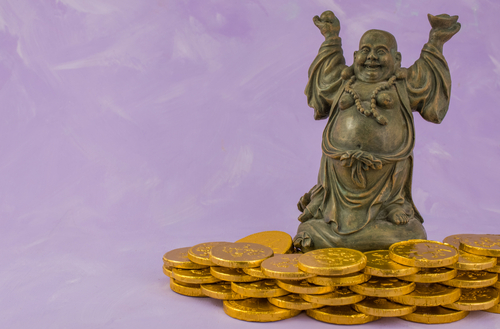 Feng Shui Laughing Buddha with a bowl
laughing buddha resting
The resting Laughing Buddha idol very strongly denotes tranquility, happiness and a balanced mind which is desired by every family.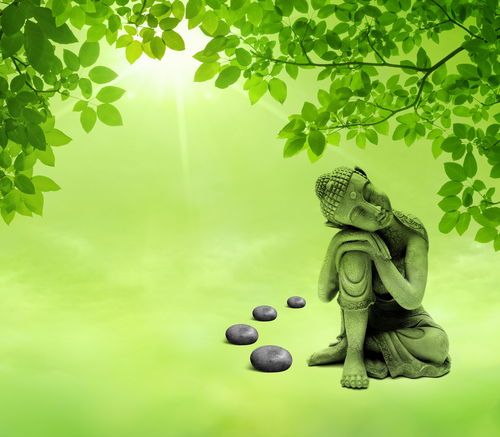 Resting Laughing Buddha
Placing a feng shui laughing buddha statue would surely energize all major sectors of your life and bring an immense amount of positivity into your life. The ancient science of feng shui tells us much about the precise placement of a feng shui Laughing Buddha in your home and optimizing the flow of vital energy within your abode.
See also: Where to Position Jade Plants in the Home (Essential Guide) – Petal Republic